About svorto company
orthopedic aids, orthopedic insoles, insoles, production, sale, flat foot, toe deformation
The family tradition on which svorto s.r.o. is built, started during the first Czechoslovak republic with a small shoe business opened by Mr Bedřich Smeták (1870-1960), a shoemaker trained in Vienna.
Mr. Smeták was one of the first people in Prague to produce orthopedic shoes, in collaboration with the founder of orthopedics, prof. Zahradníček.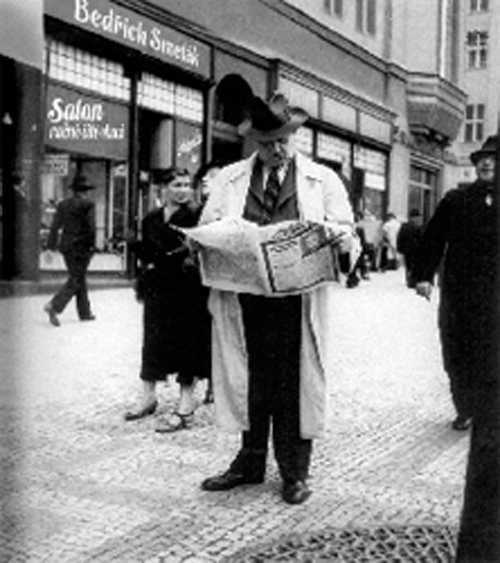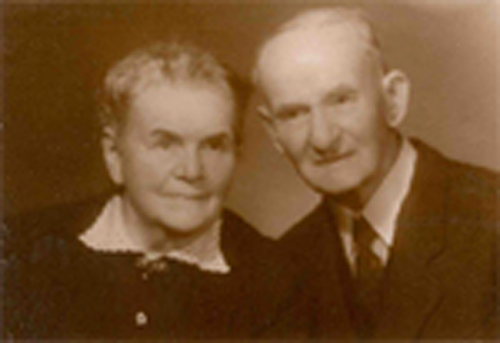 Bedřich Smeták (1870-1960) with his wife Marií Smetákovou nee Maredovou (1881-1959).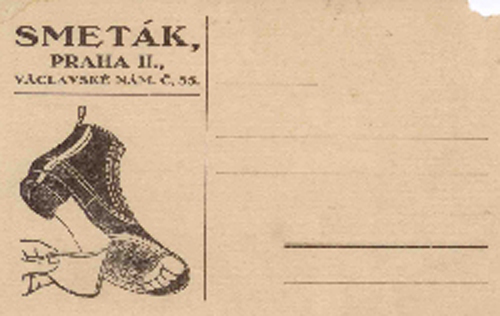 The left photograph shows the "Salon of Handmade Shoes" run by Mr Bedřich Smeták (1870-1960) on Wenceslas Square No 55 (today No. 47), above the Yalta Hotel. The photograph is dated 14 September 1937, i.e. the day when former Czechoslovak president T. G. Masaryk died. The man at the front holds a newspaper with this sad news on the front page. Right: company postcard.
After 1948, under the restrictions imposed by the regime he only ran a shoe repair shop and sold used shoes. He was not able to produce new shows owing to the material rationing system. At that time, all preference was given to state-owned enterprises. In 1956 he was forced to move to away, based on a decision of the Municipal People's Committee, and in a shop at Růžová 10 (former Prague 3), he earned an extra CZK 180 per month in addition to his pension, from the age of 89 till his death.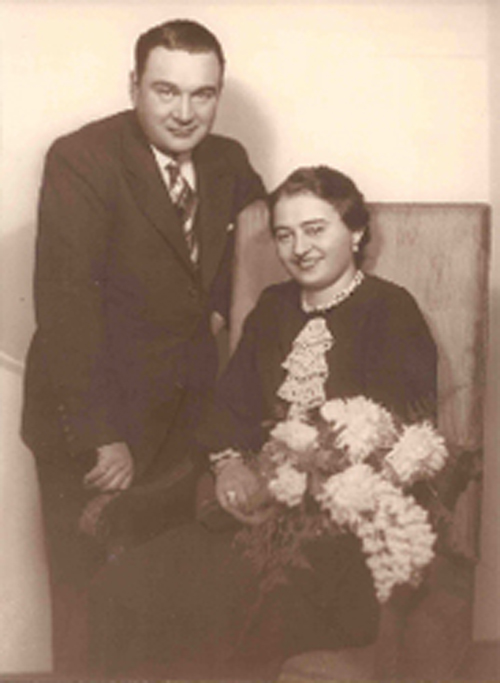 The tradition was resumed by his son Josef Smeták (1902-1975), shown in the photograph above with his wife Anna Smetáková, nee Minářová (1913-1991).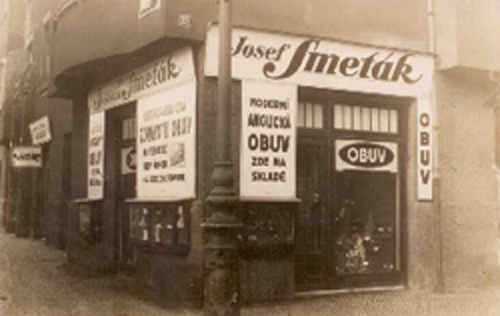 First shop run by Josef Smeták at Preslova 13, Prague - Smíchov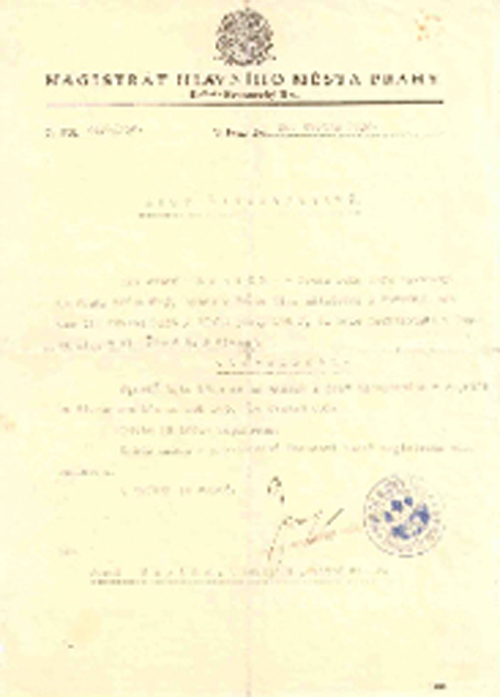 In March 1936 a shop opened on the corner of the Charles Square and Žitná street No. 2 in Prague 2; unfortunately, there are no photos available. The picture shows a business card with an address of the shop and a workshop in Sadská near Prague, employing over 25 people.
The second picture shows a trade license issued by the City of Prague to Mr Josef Smeták, in May 1936. Josef Smeták was a member of the association of shoemakers in Prague, with membership number 46-II-2216 (995).
On 28 March 1947 he was appointed a forensic expert for regional and their subordinated courts in Prague for the field of light orthopedic footwear, pursuant to Section 11 of Government Regulation 269 Coll. issued on 13 June 1939. He also worked with famous orthopedists (prof. Hněvkovský and prof. Pavlánský).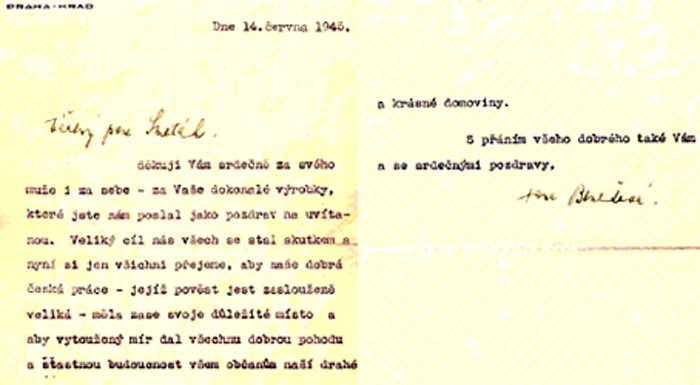 A thank-you letter addressed to Mrs. Josef Smeták from Ms Hana Benešová, wife of Czechoslovak president Dr. Eduard Beneš, sent on 14 June 1945 - a month after the end of World War 2 and after the president returned to his homeland.
After the communists took over, forced national management was imposed on the business of Josef Smeták in December 1948, all his property was confiscated, including workshops, shops and stocks, and the business was "VOLUNTARILY" included under the municipal corporation Central Purchasing of Prague Capital City. Josef Smeták became an employee in "HIS" shop on the corner of Žitná street and the Charles Square. After 2 years he was told he could no longer work at this position and he was transferred to a new position accepting shoes for repairs at the municipal corporation and moved to various places within Prague.
In 1968 he started working at the former Regional Prosthetic Centre in Prague 6, on the corner of Milada Horáková street and Pelléova street (so-called Špejchar).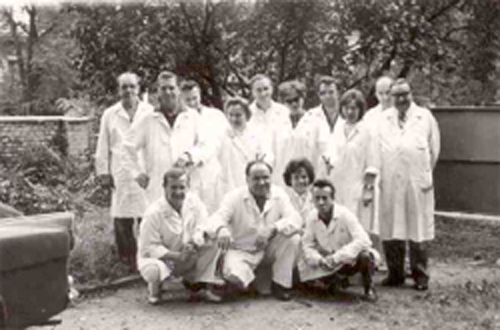 Photograph taken in 1968 shows the team of the prosthetic centre in Prague 6. Josef Smeták, first from the right.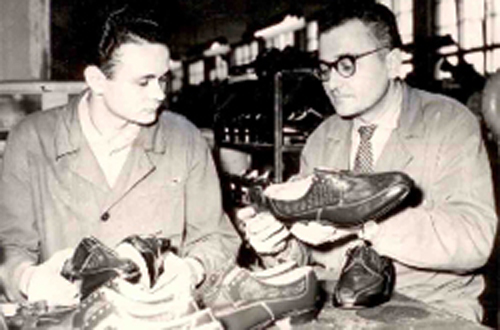 Josef Smeták during a final quality check at Svit Gottwaldov state-owned enterprise, approximately in 1966.
In 1969, the team was joined by his son Josef Smeták (1943), who was previously trained as a shoemaker in the Svit Gottwaldov state-owned enterprise in former Gottwaldov, where he later worked in the model shop and as a footwear final inspector. He also graduated from the Leather Secondary Technical School.
In 1979 he became head of department of the prosthetic department in the orthopedic shoe plant in Prague 2, Ke Karlova 11, where he worked until 1991, when he established a business with his son Radek Smeták (1972) and his colleague Luboš Vrba (1953), who also worked in the department of orthopedic shoes and are graduates of the Leather Secondary Technical School in Zlín; in its early years, the company operated as an "association of entrepreneurs S+V" and focused on the repairs and modification of standard and orthopedic shoes, orthopedic insoles and equipment.
In 1999, the company transformed into svorto s.r.o. (a limited liability company) The company is involved in the production and distribution of orthopedic, sports and series insoles, and the production and distribution of orthopedic needs, semi-finished products for prosthetics and footwear accessories for healthy and comfortable walking.
In cooperation with specialized orthopedic and rehabilitation physicians we focus on the repairs and modifications of series and orthopedic footwear and the production of individual orthopedic insoles available on prescription. The company also produces impression insoles for the products of SIDAS, France, shaped exactly according to the imprint of a sole.
We are exclusive distributors of the French exporter SIDAS in the Czech Republic and Slovakia. We offer orthopedic, sports, series and customized insoles, technologies for insole shaping, technologies for the treatment and shaping of ski boots and equipment for foot analyses.
In our retail store, we offer a wide range of women's and children's footwear, accessories and services for comfortable and healthy walking. Our products are distributed in most medical shops, health-care facilities and pharmacies in the Czech Republic. Our products are also exported to several countries in Europe and worldwide.
We are longtime members FOPTO - Federation of prosthetics and orthopedic ČOKA - Czech Footwear and Leather Association.